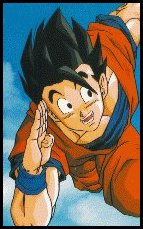 The picture that you are looking at on the above, is one of
my favorite pic of Gohan. He looks so CUTE, and HOT. Don`t
you think?






Hi everyone! my name is Khadiza Haque. Thanks for visiting
my site. This site is dedicated to my all time favorite character Gohan from DBZ/GT
My site has charater biographies, pics, and a lot of other
stuff. But since this is my first time ever to work on a site like this, I`m wokin` onto put some more stuff. Soon
this site will have polls, quizzes, and a lot more info. So
please feel free to visit my site when ever you want to.
Enjoy!